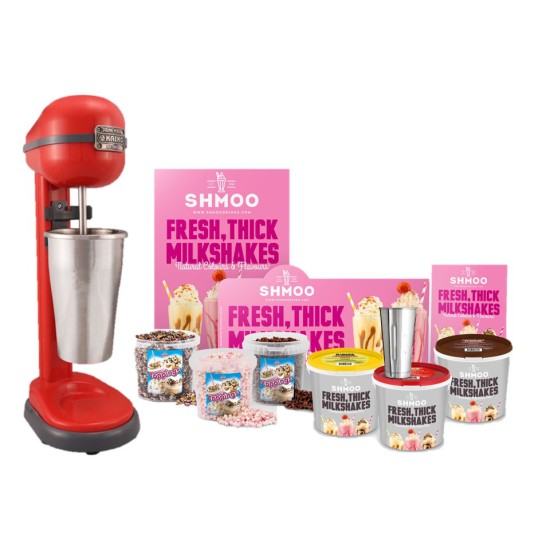 Free Delivery
Shmoo Milkshake and Frappe Starter Kit 2
THIS PRODUCT QUALIFIES FOR FREE DELIVERY
When you purchase this product, your entire basket will be delivered anywhere within the United Kingdom completely free of charge!
This kit has everything you need to get you started - except for the pavement sign.
120 drinks per tub.
This kit comprises of the most popular flavours, and all the tools that you need to make instant profit!
Note: The high quality commercial drinks mixer included in this kit is intended for mixing frappés or milkshakes in the metal container provided. It is not designed for mixing in-cup as per the Shmoo Spindle Mixer.

High Quality commercial drinks Mixer
1 x 1.8kg tub Shmoo Strawberry Mix
1 x 1.8kg tub Shmoo Chocolate Mix
1 x 1.8kg tub Shmoo Banana Mix
1 x 200g bag Shmoo Pink & White Micro Marshmallows
1 x 300g bag Shmoo Milk Chocolate Curls
1 x 500g bag Shmoo Chocolate Jazzies
3 x Topping Tubs
1 x Stainless Steel Beaker
Shmoo Point of Sale (Menu Board, Large Poster & Table Card)