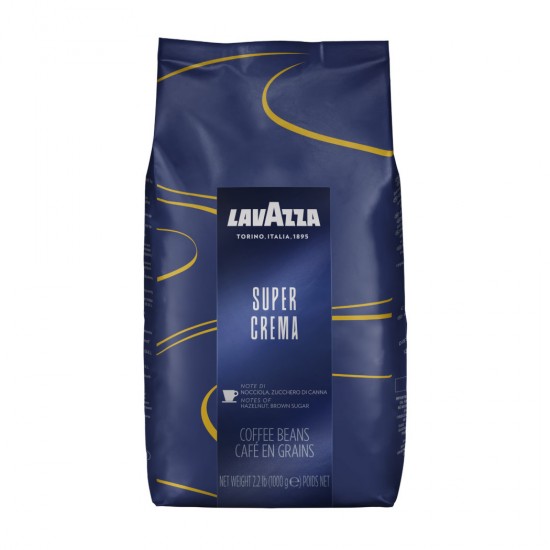 Lavazza Super Crema Coffee Beans (6 x 1kg)
Lavazza Super Crema Coffee Beans (6 x 1kg)
Experience the excellence of Lavazza Super Crema Coffee Beans, a masterful blend that promises a full-bodied and unmistakably robust coffee journey. This blend reveals captivating notes of roasted hazelnut and brown sugar, delivering the harmonious essence of Italian espresso.
Profile and Roasting:
Pronounced aromatic profile and medium body
Traditional Italian espresso with rich cream and aromatic organoleptic profile.
Aromatic Area: Aromatic
Aromatic Notes: Hazelnut, Cane sugar
Blend Composition: 60% Arabica and 40% Robusta
Product Info:
Processed at Torino Factory and Innovation Center, Str. Di Settimo 410, 10156, Torino IT
Produced by Luigi Lavazza S.p.A. - Via Bologna 32 - 10152 Torino - Italy
Lavazza Super Crema: the iconic Italian blend that brings together the sweetness of Brazilian coffees, the mildness of Central and South American beans, and the delicate flavours of Indonesia.
Imported directly from Italy, Lavazza Super Crema coffee beans epitomise the Lavazza brand's commitment to excellence. It's no wonder that this blend is our best-selling variety of coffee beans. Whether your priority is style, flavour, or image, Super Crema fits the bill perfectly. This blend excels in crafting lattes and cappuccinos, making it the preferred choice among Lavazza coffee beans.
Each 1kg bag of Lavazza Super Crema coffee beans yields approximately 140 single espressos, ensuring consistent quality and taste.
Key Product Features:
Packed in high-quality foils for freshness
6 x 1kg bags per case
Thick crema and full aroma
Each case makes approximately 840 espressos
Lavazza Super Crema Coffee Beans are the perfect choice for savouring exceptional coffee throughout the day. Whether you're unwinding at home or enjoying a revitalising break at work, Lavazza Super Crema Coffee Beans create the ideal coffee experience tailored just for you.
These beans are also an excellent choice for hotels, cafes, and restaurants that seek to elevate their coffee offerings.
Tags:
Espresso
,
Coffee Blend
,
Arabica
,
Robusta
,
Italian Espresso
,
Roasted Hazelnut
,
Brown Sugar
,
Rich Cream
,
Aromatic Profile
,
Premium Coffee
,
Latte
,
Cappuccino
,
Best-Selling Blend
,
High-Quality Foil
,
Freshness
,
Coffee Enjoyment
,
Cafe
,
Restaurant
,
Hotel