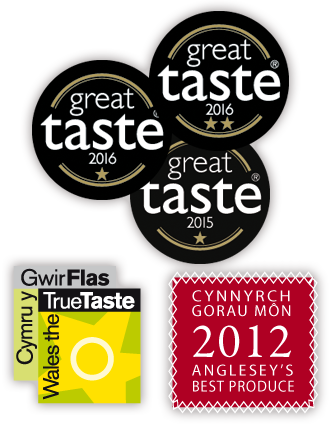 Môn ar Lwy Award-Winning Artisanal Welsh Ice Cream, sorbet & frozen yogurt Tubs (24 x 125ml)
IMPORTANT: This product is artisanal and hand-crafted according to your order, so please allow 1-7 days delivery time.
Delivery is only available to the following areas on the days noted:
CAERNARFON, PENLLYN, ABERYSTWYTH COAST - WEDNESDAYS
ANGLESEY AND GWYNEDD - THURSDAYS
WIRRAL, NORTH WEST, CHESTER, WREXHAM - FRIDAYS
Alternatively, you may arrange collection from the factory if preferred.
Flavours Available:
Ice Creams:

Belgian Chocolate - Siocled Gwlad Belg
Classic Pure Vanilla - Fanila Pur
Sumptuous Strawberry - Mefus
Mint Choc Chip - Mint a Siocled
Salted caramel - Caramel hallt
Vanilla and Honeycomb - Fanila a Mel
Blackcurrant Cheesecake - Teisen Gaws Cyrens Duon
Raspberry Fudge and White Chocolate - Cyffug Mafon a Siocled Gwyn
Bursting Blueberry - Llus y Mynydd
Rum and Raisin - Rym a Rhesinen

Sorbets:

Raspberry and Lemonade - Mafon a Lemoned
Mango and Passion Fruit - Mango a Ffrwyth Cariad

Frozen Yogurt:

Blackcurrant - Cyrans Duon
Minimum Order Quantity = 6 Cases (6 x 24 x 125ml)
Môn ar Lwy is Proper Ice Cream: Heavy and dense so you can savour the flavour! Môn ar Lwy believes in sustainability and supporting local producers. Their milk comes from a dairy less than two miles from our ice creamery and our cream comes from Anglesey. Our ice creams are suitable for gluten free diets, are egg and palm oil free and our sorbets are lactose free (and suitable for vegans).

Specifications
Summary
Remember the first time you tasted ice cream? That is the forgotten taste of childhood Môn ar Lwy strives to recreate! Seriously delicious and rich and indulgent, or zesty and exciting. Every mouthful is bursting with creative energy and passion for ice cream perfection. Winner of the Great Taste Award amongst many others and featured on Phil Vickery's national TV show. Always innovating and always striving to produce the very ice creams, sorbets and frozen yogurts so you can enjoy, savour and chill with us.