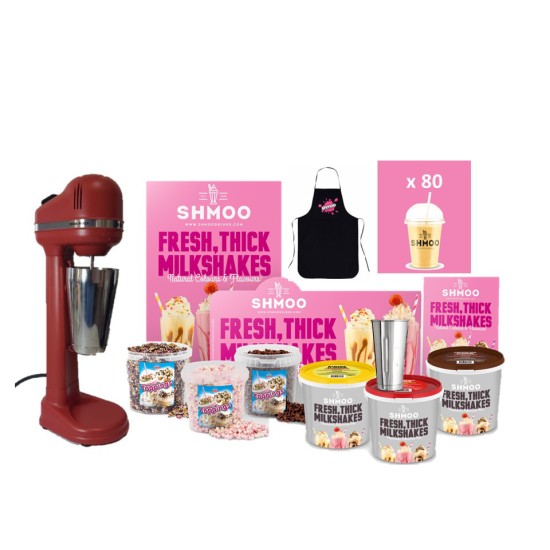 Shmoo Milkshake/Frappe Home Party Kit
THIS PRODUCT QUALIFIES FOR FREE UK DELIVERY
When you purchase this product, your entire basket will be delivered anywhere within the United Kingdom completely free of charge!
This kit has everything you need for the ideal home Milkshake/Frappé party.
120 drinks per tub.
Note: The high quality commercial drinks mixer included in this kit is intended for mixing frappés or milkshakes in the metal container provided. It is not designed for mixing in-cup as per the Shmoo Spindle Mixer.

1 x Apron,

1 x Small cups pack (80 x small half pint cups, lids and straws)
3 x Flavour tubs - Banana, Chocolate, and Strawberry (enough to make 120 drinks of each flavour)
3 x Sprinkles
1 x Kalko mini drinks mixer
1 x Poster
1 x Table talker
1 x aluminium mixing beaker